Willie Hjorth: Hands Behind the Sails
Less than five decades ago, Willie Hjorth and her late husband were pioneers in the sailing world. The couple moved to the newly built Marina del Rey in the mid-60s with dreams of starting a business and sailing around the world. Born on a Navajo reservation, Willie didn't have access to water. She credits her husband for teaching her how to swim and sail. The 'My Marina' team got a chance to visit Willie and learn more about her sea-faring life. 
"You've been in Marina del Rey since the beginning," I stated. "What was it like to watch the community evolve?"
"In the beginning, 1964, Marina del Rey was different. There weren't any traffic lights—it was a typical marina community," explained Willie. "As it grew, I just grew with it. I was so involved in raising the family and starting the business. However, I like how modern and beautiful the community has become; it's more inviting. It allows a lot of people to enjoy what I enjoy. The more people that can come out and enjoy the marina, the better.
"Plus, I love the water and the people here in the Marina del Rey boating community," Willie continued with a twinkle in her eye. "There's something about water that connects with my blood. Every place I travel to, I must visit the water and it's the first thing I do when I come back home. The boating community is friendly and always willing to share. When you meet someone that has a boat, there's an immediate bond. You are tuned in to the same wavelengths because of the water."

"How did you get into sail making?" I asked Willie, looking around her beautiful sail loft in Marina del Rey. The room is all white and filled with rolls of colorful fabric and sewing machines. The big windows invites natural light and the tall ceiling allows enough space to set up a full sail.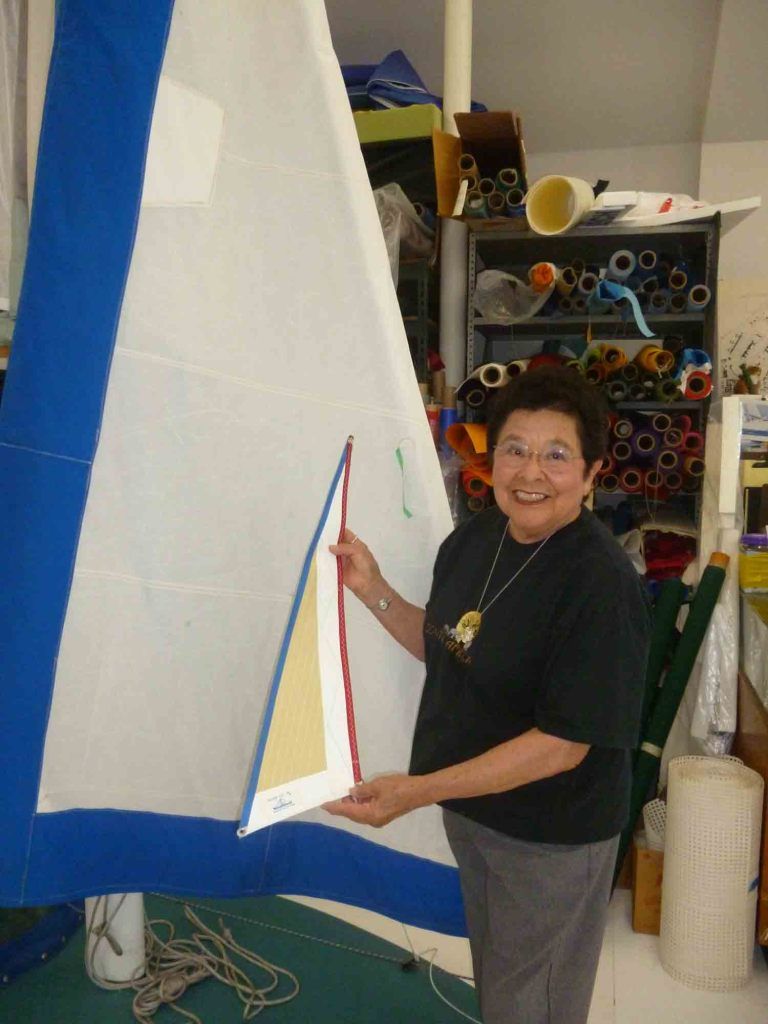 "My husband, John, was a sailor. He knew about rig making and how to put a boat together," said Willie Hjorth, the owner of Mare Company Sails. "At the time, there were a lot of accidents with people walking on nets on a catamaran. The sun damaged caused them to break and John decided to create a multiple hull trampoline net that's stronger and more durable. Our net received great word-of-mouth and kept us busy."
"Forty eight years ago we bought the assets to Bruns Sails," Willie explained. "Later on, North Sails, the largest sail maker, proposed a co-op with us. Now Mare Company Sails focuses on repairing sails and creating custom awnings for homes out of sail materials. For those who don't live on the water, it's a way to bring a little piece of the ocean home with you."
"When you're not making repairs or sailing on your catamaran, what do you like to do?" I asked.
"I love the holiday boat parade! I invite friends and family onboard the catamaran, every year more and more people show up," exclaimed Willie. "I also love eating at Killer Shrimp and Shanghai Red's, both are great restaurants to take friends and show off the marina."

Next time you see a 1968 Volkswagen red and black truck, affectionately dubbed as the 'Willie Wagon,' stop and say hi. This was Willie's first work truck and she still uses it today.  


Marina Love,
Mandev